April 3rd-13th will be the premiers of Cowboys of Color and The Starch Club at the Dallas International Film Festival. And at the 2014 High School Day Event, hundreds of students and teachers from more than 40 DFW high schools will convene in Klyde Warren Park to learn from filmmakers and other professionals through panel discussions and hands-on workshops.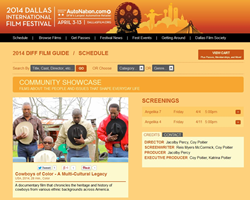 Dallas, Texas (PRWEB) March 19, 2014
DIFF 2014 High School DayApril 4
Attendees will learn how to set up quality shots, create stop motion films, improve their improv acting skills, sound like a film critic and more.
HIGH SCHOOL DAY ACTIVITIES

Check in for all participating high school students will be at Klyde Warren Park. Students will split into groups and be directed to various Arts District venues for sessions on:
Stuntman for the Camera

Get Your Act Together

VFX 101

Directing the Actor

What is Casting?

The day ends at about 4 p.m.
EVENT CONTACTS

Rene Contreras

Director of Membership, Education & Outreach

Dallas International Film Festival

rcontreras(at)dallasfilm(dot)org
Jordan Jones

Membership, Education & Outreach Assistant

jjones(at)dallasfilm(dot)org
KD College, a Subsidiary of KD Studio, Inc., offers an Associate of Applied Arts Degree in Acting Performance (http://www.kdstudio.com/).

———————–
Cowboys of Color – A Multi-Cultural Legacy

USA, 2014, 28 min., Color
A documentary film that chronicles the heritage and history of cowboys from various ethnic backgrounds across America.

SCREENINGS
Angelika7 – Friday 4/4 @5:00pm

Angelika4 – Friday 4/11 @5:00pm
Support This Blog By Visiting Partner Blogroll to do with MOre hErE :
MOre hErE
DIRECTOR: Jacolby Percy, Coy Poitier

SCREENWRITER: Reis Myers McCormick, Coy Poitier

PRODUCER: Jacolby Percy

EXECUTIVE PRODUCER: Coy Poitier, Katrina Poitier
———————–
The Starck Club

USA, 2014, 100 min., Color & B/W
Texas Theatre – Saturday 4/12 @7:30pm
The Starck Club was a seminal, forward-thinking Dallas nightclub that embodied the overindulgent and glamorous 1980s. It was an epicenter where music, fashion, and designer drugs came together. Creators Blake Woodall and Philippe Starck had great visions for the club; yet no one could foresee the impact it would have on world culture, most notably todays billion dollar EDM industry. With interviews from icons and club attendees, including Larry Hagman, Owen Wilson and Paul Oakenfold, this documentary shows why Starck was much more than just a club.
DIRECTOR: Michael Cain, Miles Hargrove

PRODUCER: Dennis Bishop, Michael Cain, Wade Randolph Hampton, Melina McKinnon

EXECUTIVE PRODUCER: Arthur Benjamin, Gary Cogill, Sheri L. Deterling, Geoff Hawkes, Ruth Mutch, Don Stokes

CINEMATOGRAPHER: Miles Hargrove

EDITOR: Miles Hargrove

FEATURING: Philippe Starck, Larry Hagman, Blake Woodall
KD College has been preparing students for work in the entertainment industry through our acting, musical theater (http://www.kdstudio.com/), and filmmaking programs for more than three decades.
KD College Conservatory of Film & Dramatic Arts A subsidiary of KD Studio, Inc.

Contact Person: Ashlyn Nichols

Telephone Number: 877-278-2283

Email Address: admissions(at)kdstudio(dot)com

Web site address: http://www.kdstudio.com/